How To Supervise Cleaning Staff
Historically, supervisors have to physically drop down to site to monitor staff and ensure everything is running to plan or you cross your fingers and hope that each morning your client doesn't report an issues with YOUR service delivery.
Supervisors & Managers are often responsible for collecting timesheets, performing inspections, checking communication books, training staff, inducting them and much more.
This manual process is extremely expensive, static and often historic in nature.
Modern cleaning companies are looking to Live & Digital Solutions that can be accessed by the whole team and report everything about their service delivery in real time. These digital solutions are no longer the realm of Enterprise Business.
Software As A Service means that advanced software solutions are available and aimed at small to medium business at much more affordable rates than 10 -15 years ago.
Going Digital is also a strategy that helps you hire the best cleaning staff.  After all our workforces within the Cleaning Industry are  filling with Millennials, who EXPECT digital tools to be used in their workplaces.
What Tasks can you Digitise?
Scheduling and Rostering
Timesheet Collection
Task/Scope Of Works Scheduling & Verification
Onboarding Processes
Security and Site Access Info
Proof of Attendance
Compliance to Contract
Communications
Paperwork and Forms
Training
How Can Digitising Tasks Help?
It might be a little overwhelming at first, the thought of leaving tasks up to the digital world – especially when you have taken a physical approach for so long.
However Digitising tasks can be a simple, hassle-free and cost-effective approach. This though, shouldn't mean more Excel Spreadsheets and Word Docs.
For example, digitising the Timesheet and Attendance process means that no-one has to physically supervise your staff's start and end times – which means you can pay your supervisors or managers to be somewhere else doing something more useful with their time and with your money.
Additionally, taking an online stance means that no matter what, you have a digital unarguable record of the services you have delivered.
freshOps is a specialty app and software service targeting built for Small Business Owners, Frontline Manager and Supervisors to help them manage their field operations better. We offer a simplified approach to scheduling, timesheets and attendance aspects to ensure you have 100% proof of service.
freshOps digitises a range of tasks including rostering and scheduling, timesheets, attendance, providing specific instructions, advanced task verification, live team management and much more. Unlike other softwares, freshOps was designed by a cleaning business owner for cleaner business owners.
Therefore, the app is easy to use, makes sense to the Cleaning Industry and offers a 30 day free trial to test it out and see how it works without locking into a commitment.
Why You Need Digitisation
While Digitising tasks may require a new software and learning a new system, a new system may be exactly what you need.
If you are having troubles with your staff members, or aren't exactly sure if they are following your guidelines, you may need to implement a new strategy of overseeing without actually physically overseeing.
freshOps in particular allow you to monitor each step of your staffs working day – without stalking them.
Digital Solutions are also being used as points of difference between cleaning companies. Like all business, when you head down and feet up, the issues that plague your growth can sometimes be a little skewed. This is why we often look to business coaches for external advice.
However, your clients, often know some of the biggest problems you face with service deliver more so than you can.
They've already had the hard sell, by multiple companies before you that had ISO Accreditations, Licenses, promised they treat the Customer First, are Great Communicators, have well trained staff etc etc etc etc. They've heard it all before.
More time than not though, they understand how software has helped their businesses in streamlining their operations, so are more likely to side or engage with Cleaning Businesses that can demonstrate their digital strategies and operations tools.
Here at freshOps we often use the saying that
Cleaning Contracts are Won & Lost in the Field.
Unless, you have a digital strategy for you field management side of your business you are going to lose out to those that do.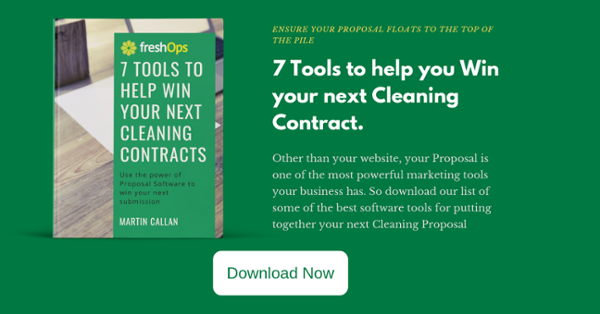 https://www.getfreshops.com/wp-content/uploads/2023/07/How-to-Supervise-Cleaning-Staff.webp
479
640
admin
https://www.getfreshops.com/wp-content/uploads/2021/08/freshops_logo_rgb_l_pos1.png
admin
2023-07-03 15:07:18
2023-07-03 15:07:18
How To Supervise Cleaning Staff